Sub-bottom profilers
Meridata's sub-bottom profiling systems have repeatedly been praised for their ability to produce sub-seabed imaging of exceptional clarity.
HD SBP
Meridata High-definition Sub-bottom Profiler (HD SBP), is the core of our simultaneous multifrequency broadband sub-bottom profiling system. HD SBP contains up to two simultaneous chirp channels with premium chirp signal processing. Both channels inherently cover the entire bandwidth from 2 to 50 kHz, thereby supporting a wide range of wet ends. Additionally, HD SBP seamlessly integrates an optional seismic reflection profiling subsystem (e.g. boomer, sparker or air-gun) for frequencies from 10 Hz up.
HD SBP's intelligent trigger management enables single-pass surveys without crosstalk when running two chirps and a seismic reflection profiling subsystem all simultaneously. Productivity and data quality reach new levels thanks to the diligent system design.
The selection of chirp frequency bands and seismic reflection profiling subsystems optimizes the system performance for the survey task at hand.
Meridata HD SBP
UHF Chirp
Meridata 20-50 kHz UHF Chirp yields an ultra sharp layer resolution of just 3 cm in densely varved fine sediments. Penetration of 20 m in sediment is commonly seen in clay deposits. The depth range extends beyond one kilometer.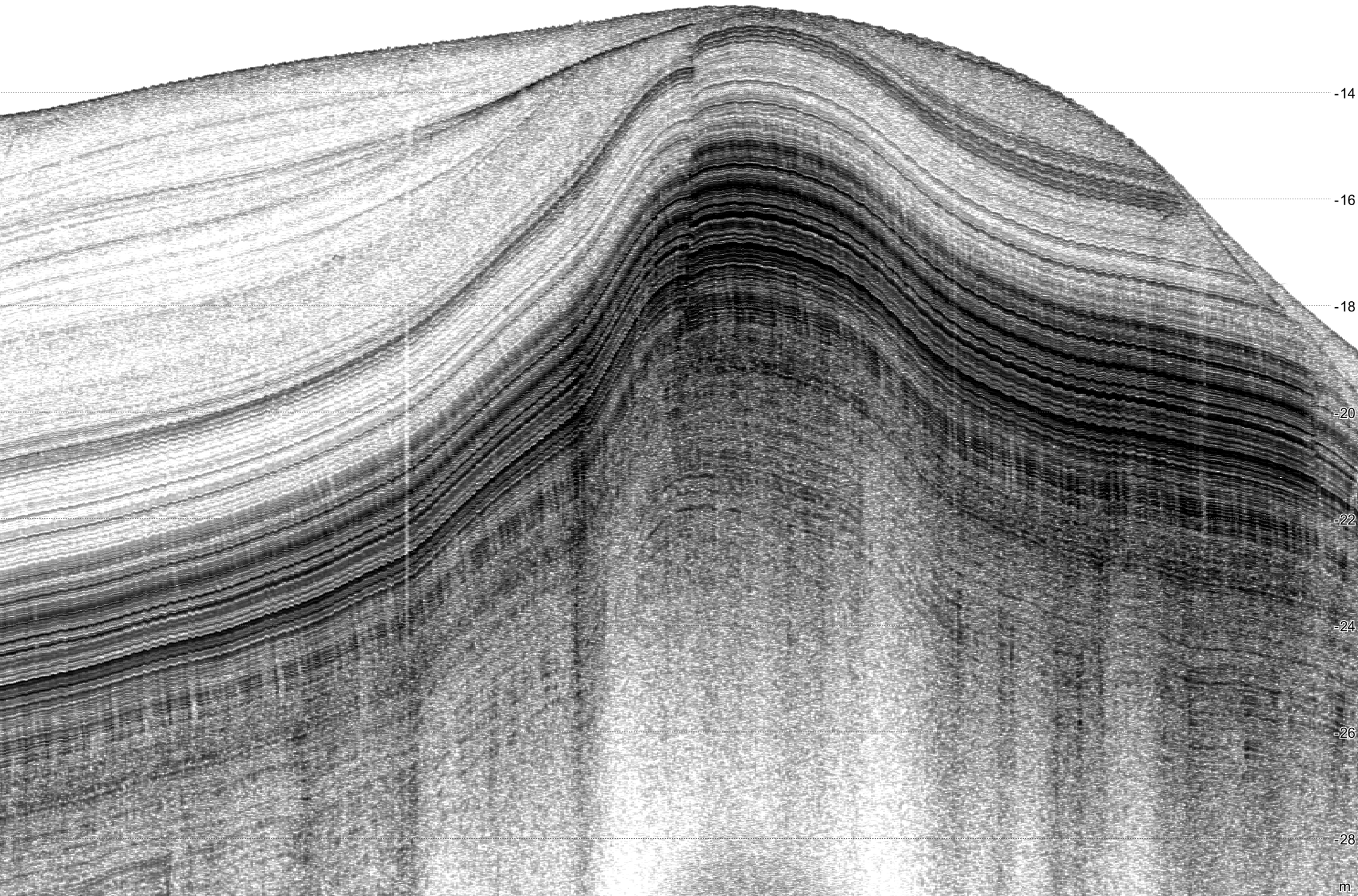 Meridata 20-50 kHz UHF Chirp profile
HF Chirp
Meridata 10-20 kHz HF Chirp is a balanced performer positioned between the UHF and LF bands. It combines a layer resolution of better than 10 cm with improved penetration compared to higher frequencies. Simultaneously, depending on configuration, ranges from one to three kilometers can be reached.
Meridata 10-20 kHz HF Chirp profile
LF Chirp
Meridata 2-9 kHz LF Chirp offers the best penetration in our line-up of chirps. Layer resolution is better than 20 cm. The LF Chirp transducers are also available in array configurations for extended range operation down to several kilometers depth.
Meridata 2-9 kHz LF Chirp profile
Boomer
Boomers are seismic reflection profiling equipment that typically operate at frequencies ranging from 0.7 to 2 kHz, and give a good resolution while providing clearly improved sub-bottom penetration in comparison with higher frequency systems.
Meridata has supplied the survey industry with boomers for well over a decade, and can offer a range of systems that meets the needs of surveys at open sea as well as shallow inland waters.
Boomer profile
Sparker
Sparkers are seismic reflection profiling equipment that operate in the 400 to 1200 Hz region. They are well suited for off-the-continental-shelf operations, but they can also be used in shallow coastal waters when sub-bottom penetration requirements can not be met with higher frequency systems.
Meridata offers a variety of sparker-based sub-bottom profiling solutions.
Sparker profile
Data acquisition for HD SBP
HD SBP interfaces directly to a survey computer running Meridata MDCS survey software. The instrument operates under direct control of MDCS while providing raw data streams for MDCS to log. There is no need for separate control and acquisition software packages as Meridata MDCS does it all.
---
Interested to know more?
Contact us for more info
---
Oy Meridata Finland Ltd
P.O. Box 18 (Veijolankatu 41) FIN-08151 LOHJA, FINLAND
Telephone +358 (0)19 321912
---
Copyright © 2023 Oy Meridata Finland Ltd. All rights reserved.